The Harvest USA Report celebrates a quarter century on the air
By Brian Hale
2022 marked the silver anniversary of daily harvest reports by USCHI Hall of Fame broadcaster Howard Hale.
Nine years ago, Howard was inducted into the USCHI HOF. Below is the Induction article found on the organization's website.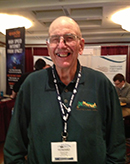 The U.S. Custom Harvesters Hall of Fame
INDUCTEES OF USCHI HALL OF FAME
Howard Hale – (2013)
Howard was born August 4, 1935 in Scottsbluff, Nebraska and grew up on a stock farm and has been involved in agriculture his entire life. As a young man, he helped his mom and dad farm, raised sheep and even had a small Black Angus herd at one time.
Howard turned to broadcasting at the age of 50 and has been a member of the National Association of Farm Broadcasting since 1985. He could frequently be spotted volunteering his time as the announcer at numerous events like county fairs and the Junior College Basketball games and served as Farm Broadcaster for various stations until 1994 when he formed his own business.
In 1997, U.S. Custom Harvester Greg Ehrlich brought up the idea of the Harvest USA Report and a legacy partnership was born. Powered by the cooperation of you, the U.S. Custom Harvesters, and initially sponsored by John Deere, it was the Farm and Ranch Radio Network of KSIR in Ft. Morgan who managed the program and Howard Hale who served as the broadcaster to get timely information from the field out to the people everywhere.
Howard took over full management and ownership of the program around 2002 and has been working with his son's multimedia company to deliver the program via the internet. The companies have expanded to include an array of agriculturally focused websites, a network of 25+ stations in 8 states carrying the Harvest Report, Horseman's Corner and Cattleman's Corner, an online radio station that plays our three feature programs plus Ag News and daily Livestock Markets, as well as, an app development service.
Howard also owns and operates the Minatare Arena, an indoor horse training facility in western Nebraska and raises Boer goats and quarter horses with his wife Patricia.
————————–
That was 2013.
Howard continued to produce the Harvest USA Report for another nine campaigns, marking a quarter century of daily reports for the farm broadcasting icon. He finally opted for early retirement at 87 after beating a couple strokes, several cancers and a couple other death defying potential setbacks. Not much sets Howard back. His steady, faithful attitude of serving others is something to be passed on to generations.
As 2022 comes to a close, Howard is finally opting for early retirement at the young age of 87. He has passed the reigns onto his adopted son, who is forever grateful and the author of this article. We are truly blessed by every moment we have Howard Hale blessing people on a daily basis through his booming voice over so many great radio stations throughout the true midwest. Thank you Howard!
May this season find you blessed and we pray for you and yours.