VAERS COVID Vaccine
Adverse Event Reports
1,544,509 Reports Through April 7, 2023
35,096 DEATHS
196,861 HOSPITALIZATIONS
149,273 URGENT CARE
231,151 DOCTOR OFFICE VISITS
10,459 ANAPHYLAXIS
16,887 BELL'S PALSY
4,969 Miscarriages
19,130 Heart Attacks
26,789 Myocarditis/Pericarditis
65,107 Permanently Disabled
8,650 Thrombocytopenia/Low Platelet
37,258 Life Threatening
42,353 Severe Allergic Reaction
15,631 Shingles
---
In a shocking landmark study, the severe danger to brain health presented by COVID-19 Spike protein was exposed last week by a cross-disciplinary research team of 30 doctors.
Our results revealed the accumulation of the spike protein in the skull marrow, brain meninges, and brain parenchyma. The injection of the spike protein alone caused cell death in the brain, highlighting a direct effect on brain tissue.

bioRxiv study
While this fact has been swept under the rug by major media outlets, the data shows a sharp rise in reported cases of brain fog, memory loss, and dementia-like conditions since the pandemic. The link between neurogenerative disease and spike protein accumulation in the brain is undeniable.
Dr. Peter McCullough provides insight into the current state of affairs from real clinical experience treating patients:
"It is reassuring to patients suffering with post-COVID or "long-COVID" that it is not all in their heads, the pathophysiology is pointing to persistence of Spike protein in the blood which is pathogenic and likely driving tissue/organ injury with associated symptoms.
Because COVID-19 mRNA vaccines further load the body with genetic code and more Spike protein, it is likely that vaccination worsens post-COVID syndromes despite raising antibodies against the Spike protein. I have not found claims that vaccination reduces long-COVID syndromes valid in bias papers that are pushing vaccines."
---
A systematic review of 2,168 studies on adverse medical mask effects
As face masks became mandatory in most countries during the COVID-19 pandemic, adverse effects require substantiated investigation.
"We found significant effects in both medical surgical and N95 masks, with a greater impact of the second.
In the absence of strong empirical evidence of effectiveness, mask wearing should not be mandated let alone enforced by law."
---
"Of the 54 included studies, 51 reported numerous adverse mask effects across multiple clinical disciplines, as already compiled in a previous scoping review," the authors added. "Also 14 of the 17 studies, which were not included in the meta-analysis reported those numerous mask effects."
"Overall, our systematic review found mask related symptoms that can be classified under the previously described Mask-Induced Exhaustion Syndrome (MIES), with typical changes and symptoms that are often observed in combination," they added.
---
Chicago Workers Who Refused COVID-19 Vaccines to Be Reinstated with Back Pay and 7% Interest on Top
Chicago workers who were fired over refused COVID-19 vaccines today received the ultimate vindication: the city's administrative law judge for a state agency ruled (https://archive.is/SUNE3) the city has to reinstate workers and make up for lost wages and benefits.
---
In a press release announcing the measure, the FDA said they were doing this "to simplify the vaccination schedule for most individuals" and authorize an "additional dose for certain populations."
Now, it's pretty wild that we are now on SEVEN COVID SHOTS for some segments of the population. YES, SEVEN SHOTS IN TWO YEARS. We are officially at the point where the government is too embarrassed to give the people a current tally.
Sadly, the Pfizer loyalty card meme is no longer a meme, but fast becoming an FDA authorized reality.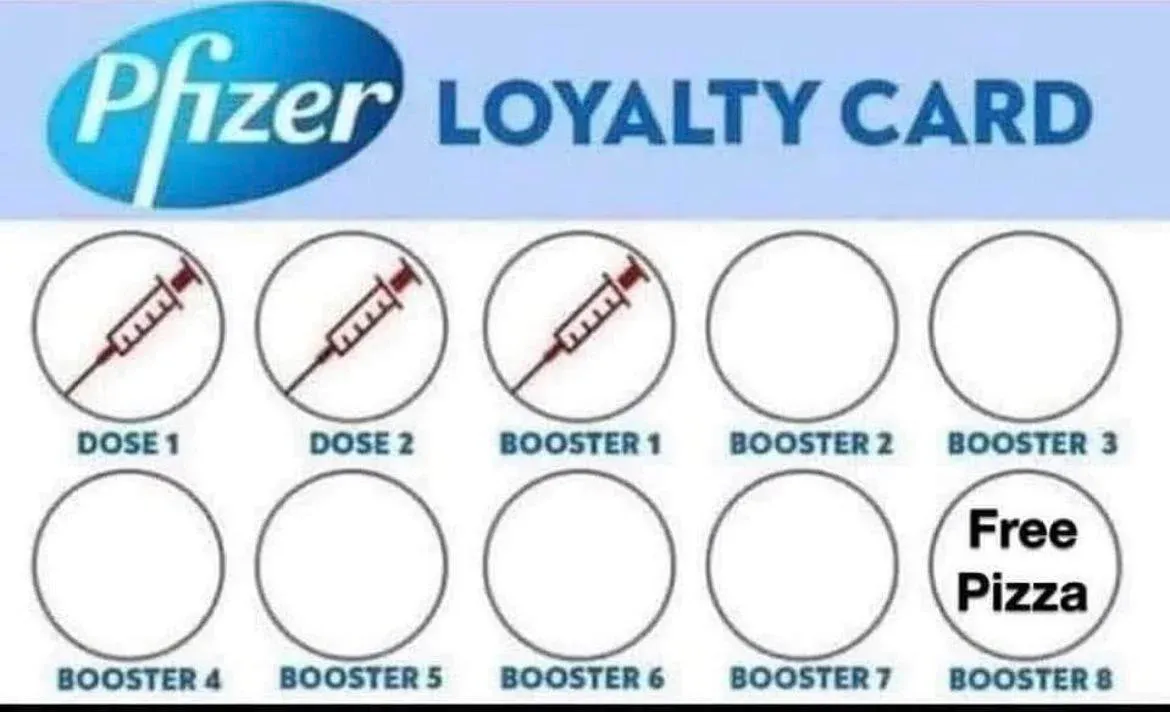 ---
We're Going To See An Explosion of Autism and Schizophrenia in Children
Dr. Russell Blaylock warns that the effects on our younger population won't be apparent immediately.
---
Died Suddenly Memorials
Justin Smith, a senior on Timberline High School's varsity tennis team, collapsed during practice on Monday and later died at St. Luke's Regional Medical Center in Boise. The cause and manner of his death are listed as pending by the Ada County Coroner's Office. He was 17 years old.