VAERS COVID Vaccine
Adverse Event Reports
1,509,410 Reports Through January 20, 2023
Compared to 2,412,411 total reports of ALL vaccines
33,904 DEATHS
36,220 Life Threatening
---
FFA went against their own rules
1/2
This is the raw data that was gleaned by our friend @timmy04jc from the helpful Twitter bot, @SquawkAlert. This bot was created in 2017 to track real time Aviation Squawk Alerts, for either 7700 (Emergency) or 7600 (Loss of Communication).
2/2
Timothy compiled the tweets from this account for the years presented in the graph, only for the 7700/Emergency Alert. Notice an alarming trend? We sure do.
@JoshYoder @LTCTheresaLong @DowdEdward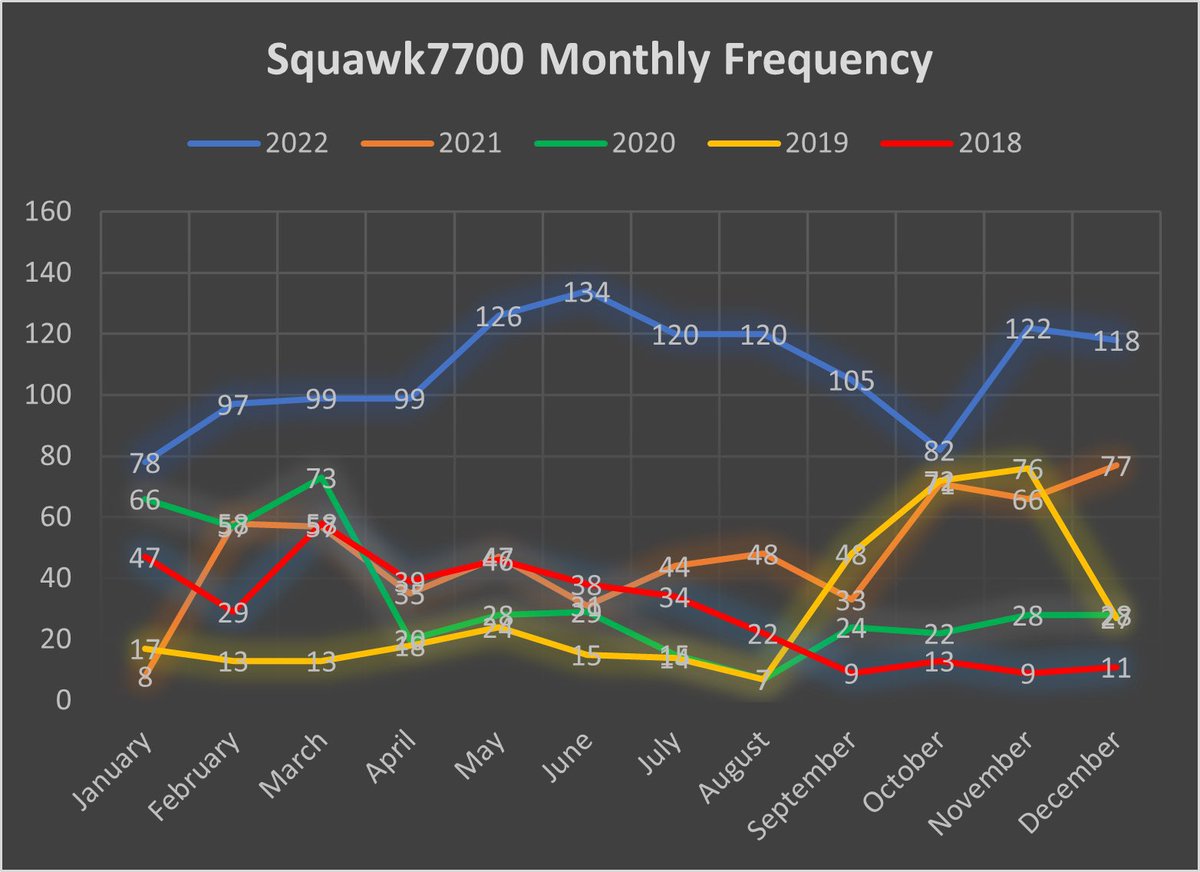 Originally tweeted by US Freedom Flyers (@USFreedomFlyers) on January 5, 2023.
---
After the first report January 25, 2023 of Pfizer Executive admitting that the COVID 'vaccine' is the company's 'cash cow', Project Veritas released another interview from the same exec admitting to potential problems.
[NEW YORK – Feb. 2, 2023] Project Veritas released a new video today featuring Pfizer Director, Jordon Trishton Walker, where he shares his concern about the COVID vaccine and its potential negative effects on women's reproductive health.
In a conversation with an undercover journalist, Walker admits that something is off when he analyzes the impact of the COVID vaccine.
There is something irregular about the menstrual cycles. So, people will have to investigate that down the line.

The [COVID] vaccine shouldn't be interfering with that [menstrual cycles]. So, we don't really know.

Pfizer Director, Jordon Trishton Walker
The Pfizer Director appears to be worried that over time, more information may become known about the COVID vaccine's potential side effects.
I hope we don't find out that somehow this mRNA lingers in the body and like — because it has to be affecting something hormonal to impact menstrual cycles. I hope we don't discover something really bad down the line. If something were to happen downstream and it was, like, really bad? I mean, the scale of that scandal would be enormous. I would take Pfizer off my resume.

Pfizer Director, Jordon Trishton Walker
---
The ICD-10 coding system was created by the World Health Organization (WHO) and doctors are required to use it to categorize different kinds of patients. The ICD-10 codes are preserved in a patient's electronic health record and used by insurance companies for billing purposes. The CDC's National Center for Health Statistics maintains the ICD-10 codes. Within ICD-10 codes, there is a category known as "ICD-10-CM" codes (which are reportedly used by the CDC for tracking purposes), and this "CM" category includes the new "Unvaccinated for COVID-19" category and also the "Partially Vaccinated For COVID-19" category and the "other underimmunization status" category.
---