Chemical spills happen often in manufacturing, however, they are usually caught early and small enough to not cause massive public outcry. But these last few weeks, heads have been rolling and the public is no longer taking any of it lying down. Here are just a few incidents that have happened recently.
A train derailment in Keachi caused residents to evacuate from their homes Friday night after over 10,000 gallons of acid products were spilled. Louisiana State Police Hazmat team declared a mandatory evacuation of homes within a one-and-a-half-mile radius of the railroad crossing.
Norfolk Southern said 20 of the more than 100 cars were classified as carrying hazardous materials — defined as cargo that could pose any kind of danger "including flammables, combustibles, or environmental risks."
Massive fire breaks out at a renewable energy plant in DORAL, FL. EPA advises residents to "shelter in place". Officials have urged residents to stay indoors and wear masks if they have respiratory issues.
The Splendora Police Department said about 15 cars derailed in the crash. Hazmat crews are on the scene but there are no leaks from the cars. They are cleaning up some of the spilled diesel fuel from the truck.
Formerly known as Stonyfield Yogurt, the Derry Fire Communications Center was notified at around 4:30 p.m. of a report involving a forklift puncturing a chemical container, according to the Southeastern New Hampshire Hazardous Materials District's Facebook page.
The container held 300 gallons of peroxide, Boston.com reported. The hazmat team and Londonderry firefighters worked into the afternoon and early evening to clean the spill.
Authorities ordered a shelter-in-place for a three-mile perimeter around the incident Wednesday morning,  according to the Arizona Department of Public Safety. 
---
None of these incidents should be taken lightly, but some have called the incident in East Palestine as bad as Chernobyl. Even as many outlets and politicians try to pass it off as safe, the residents are getting the word out that all is NOT well.
In a press conference Sunday, the National Transportation Safety Board shared what it believes to be the cause.
"We have obtained two videos which show preliminary indications of mechanical issues on one of the railcar axles," said National Transportation Safety Board member Michael Graham.
The company is liable for the wreck according to the NTSB report. KanekoaTheGreat has gathered several reports from locals and reporters to help us get a handle on what is actually going on.
---
You are looking at a toxic cocktail of deadly chemicals purposefully being burned off in East Palestine after a train derailment. Authorities burned off vinyl chloride, which is toxic & carcinogenic, and released harmful & dangerous hydrogen chloride & phosgene into the air.
---
Phosgene is a highly toxic, colorless gas with a strong odor that causes vomiting & breathing trouble & it was used as a chemical weapon in World War I. Hydrogen chloride is a colorless to yellowish gas with a strong odor, that causes skin, eye, nose, and throat irritation.
---
Wisconsin Department of Health: "Exposure to vinyl chloride can affect a person's liver, kidney, lung, spleen, nervous system and blood." "Human and animal studies show higher rates of liver, lung and several other types of cancer."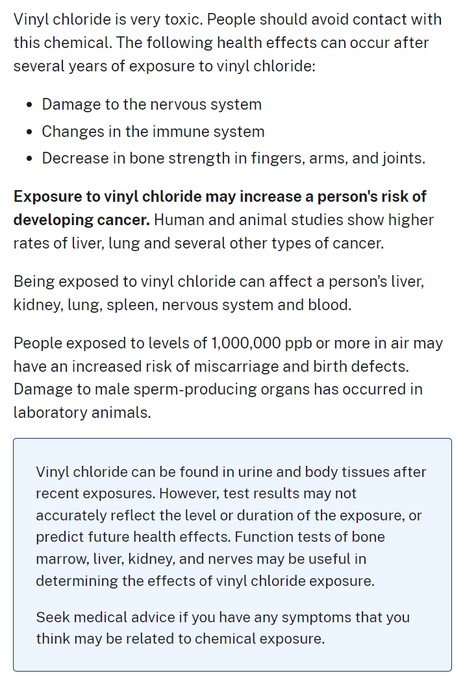 The vinyl chloride burn occurred near the Ohio River which flows directly into the Mississippi River. Thousands of farms may be affected by this.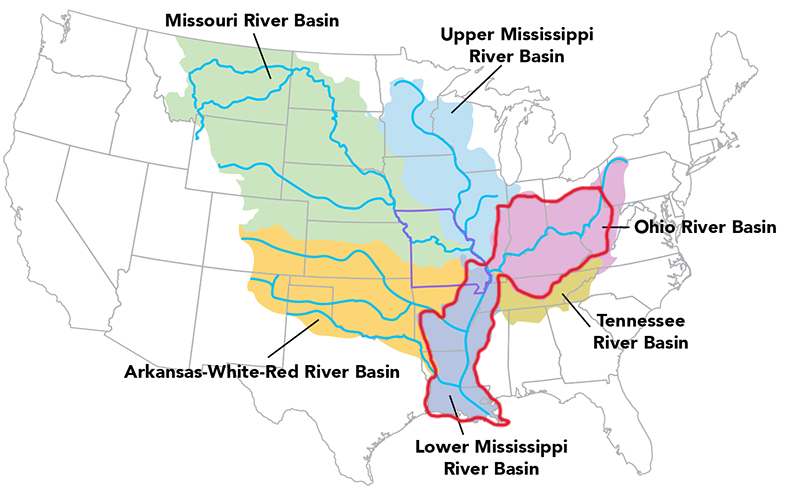 The EPA sent a letter to the rail company, stating that ethylene glycol monobutyl ether, ethlyhexyl acrylate, & isobutylene were also in the rail cars. "We basically nuked a town with chemicals so we could get a railroad open."
---
Amanda Breshears found her chickens dead ten miles from East Palestine. "As soon as they started the burn, my chickens slowed down and they died." "If it can do this to chickens in one night, imagine what it's going to do to us in 20 years."
---
There are reports of dead fish in rivers and creeks 5 miles away from the train derailment.
Taylor Holzer, a fox-keeper, just outside of the evacuation zone, says one of his foxes died, and all have been acting sick since the vinyl chloride burn. "The chemicals we're being told are safe… are definitely not safe for animals… or people."
One twitter user responded: There are ~75k farms in Ohio. Nearly 90% of those farms are run by families or individuals. It's so "ironic" this awful environmental disaster happened there.
"Coincidentally" there's a global war on small holding farms to sell or go bust, via legislation and economics.
---
The top 10 owners of the Norfolk Southern Corp rail transportation company include:
Vanguard
JPMorgan
BlackRock
Some are reporting that Norfolk Southern is trying to pay residents $1000 "inconvenience" fees. Don't sign papers associated with the fee. BlackRock and Vanguard WILL try to use it as a waiver of all future claims.
---
The EPA released a manifest last night from Norfolk Southern summarizing more chemicals that were released in East Palestine, Ohio:
Three cars of Diethylene Glycol
One car of Polypropyl Gylcol
One car of Propylene Glycol
Two cars of Polyethylene
Two cars of Polyvinyl
Five cars of Petroleum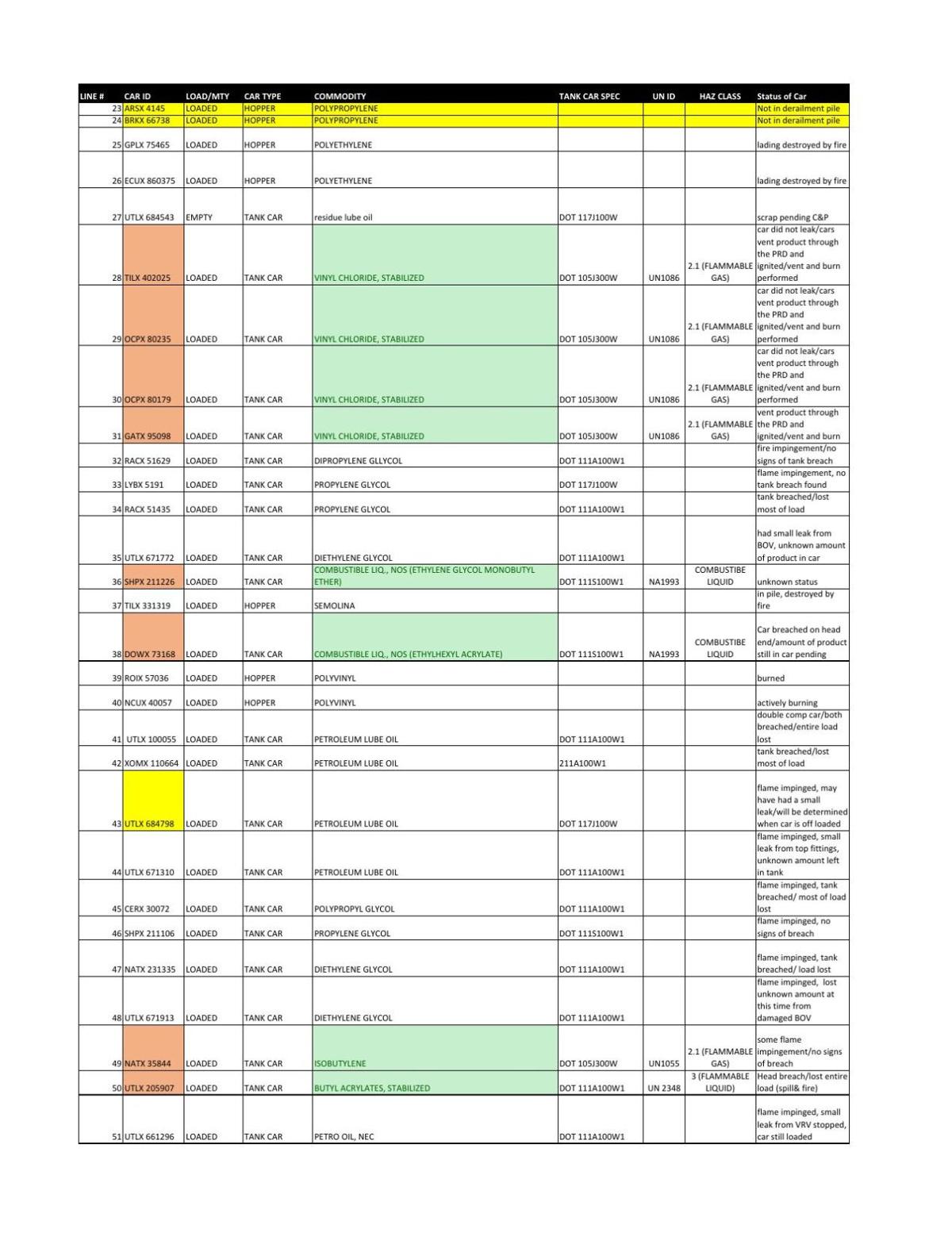 Hazmat specialist is concerned authorities aren't testing for phosgene, hydrogen chloride, and dioxins in East Palestine, Ohio.
"Phosgene takes a special photo-ionization lamp or a special meter… What are they checking for? They only give lists of what they have found. They are not telling you what they are checking for."
"Norfolk Southern checking your house out is like the fox guarding the hen house… You don't know the long-term health effects."
---
Mother talks about her 9-year-old asthmatic son's reaction to toxic chemical release in East Palestine, Ohio: "He was projectile vomiting across the floor out of nowhere…he was shaking, begging for water, he said he couldn't breathe… he broke out with some rashes—I'm terrified to go back."
---
Katlyn Schwarzwaelder tells Glenn Beck four of her dogs were projectile vomiting, her eyes and throat get itchy and burn when she visits her home, and she plans to abandon East Palestine forever because of her long-term health concerns:
"I had four dogs needing emergency veterinarian services because they were projectile vomiting and very lethargic."
"Going back is extremely uncomfortable, there are physical symptoms every time, from itchy burning, watery eyes, itchy burning throat, coughing, and a weird sensation like your eyes pulsating like a heartbeat."
"The media is not appropriately displaying that people aren't returning. Some people who didn't have the financial means to stay away any longer came back, but any body who had an option did not go back."
"The vinyl chloride is like water and travels through the ground and soil like water… It takes time for this stuff to travel through the ground… These levels could be astronomic in four, five, or six months from now."
---
Jesse Waters – 'Ohio town is abandoned'
"I've been sick with upper congestion. This morning I woke up with my eye swollen. My kids keep breaking out in rashes. I have experienced headaches and coughing. Sore throat and headaches."
"Aren't these the same people who told us Flint, Michigan's water was good to drink? Remember the EPA also lied to New Yorkers about 9/11? They said the air around ground zero was safe and told them to go outside, and ten years later, thousands of people wound up with cancer."
"The EPA is setting East Palestine up to be another stat, and the people there see through it… It's like it doesn't even matter that a small rustbelt town got a chemical nuke dropped on them by a rail company."
East Palestine Ohio residents talk about reactions after toxic chemical release:
If it's safe, why are people getting sick, and why does it smell toxic?
East Palestine resident says Norfolk Southern offered to move them out of their home:
"They're offering to get us a new place and a couple months rent… We have a unique situation with water runoff into our basement."
Some residents have filed a federal lawsuit after hazardous train derailment in Ohio
---
East Palestine toxicology test relies on a controversial consulting firm accused of serving corporate interest rather than public health.
CTEH, a private contractor hired by Norfolk Southern to test water, soil, and air quality in East Palestine, Ohio, has a history of minimizing the effects of environmental disasters to satisfy its corporate employers.
After a million gallons of oil spilled on a Louisiana town in 2005, after a flood of toxic coal ash smothered central Tennessee in 2008, and after defective Chinese drywall began plaguing Florida homeowners, CTEH was on the scene — saying everything was fine.
In each of these cases, the controversial consulting firm was alleged to be supplying the data its employers wanted while falsely assuring the public that they were safe from harm.
CTEH's work for BP in the wake of the Deepwater Horizon oil spill in 2010, for example, drew accusations of the "fox guarding the chicken coop" from the New York Times:
"As BP continues to claim that the leaking oil has caused "no significant exposures," despite the hospitalization of several workers and the sparse release of test data, these observers of CTEH's work say the firm has a vested interest in finding a clean bill of health to satisfy its corporate employer."
"It's essentially the fox guarding the chicken coop," said Nicholas Cheremisinoff, a former Exxon chemical engineer who now consults on pollution prevention. "There is a huge incentive for them to under-report" the size of the spill, Cheremisinoff added, and "the same thing applies on the health and safety side."
"Another toxicologist familiar with CTEH, who requested anonymity to avoid retribution from the firm, described its chemical studies as designed to meet the goals of its clients. "They're paid to say everything's OK."
"Matt Landon, a staff member at the anti-mountaintop removal mining group United Mountain Defense, encountered CTEH in the wake of the 2008 breach in a coal ash dam run by the Tennessee Valley Authority (TVA)."
"Landon said his group began its own air monitoring after finding CTEH employees installing low-volume monitors that community advocates believed were not strong enough to measure air quality in compliance with EPA standards."
"People were getting sick," Landon recalled, "eyes swelling up, rashes, ear aches, wedding bands tarnishing. They said it was taking them time to get high-volume monitors out there."
In 2010, Congressional Democrats pressured BP to fire the toxicology testing company used by Norfolk Southern and the EPA in East Palestine, Ohio.
The lawmakers claimed the company had a "long pattern of tainted results," prioritizing corporate interests over public health.
---
Set in the 1980s, White Noise follows the life of an academic and his family whose lives change after an air contamination accident near their home.